15th Annual Chiller Thanksgiving Classic
November 29-Dec. 1, 2013
Hosted by The OhioHealth Chiller Ice Rinks - Columbus, Ohio
2013 Results

JV Ohio Results - St. Charles - Division Champ
EAST - Liberty, Orange, St. Charles, Sycamore
WEST - Lake Catholic, Northeast Storm, St. Xavier, Upper Arlington
JV USA Results - Wooster - Division Champ
EAST - Dublin White, New Albany, PHA Prowlers, Wooster
WEST - Columbus, Dublin Green, Hilliard, Westerville
Varsity Ohio Gray Results - Lake Catholic - Division Champ
EAST - Dublin Coffman, Lake Catholic, Olentangy Orange, Sylvania Southview
WEST - DeSales, Dublin Jerome, Strongsville, Sycamore
Varsity Ohio Red Results - Gahanna - Division Champ
EAST - Centerville, Elder, Olentangy, St. Xavier
WEST - Clay, Gahanna, Perrysburg, Thomas Worthington
Varsity USA Blue Results - St. Charles - Division Champ
EAST - Abbey Park, Liberty, St. Charles, Westerville
WEST - Hilliard, Northeast Storm, Robert Bateman, Upper Arlington
Varsity USA White Results - Trinity - Division Champ
EAST- Montour, PHA Prowlers, Watterson, Worthington Kilbourne
WEST - Athens, Dublin Scioto, Lester B. Pearson, Trinity
For Questions Contact Jeremy at 614-791-9999 ext. 123 or jrogers@thechiller.com
Features:
4-game guarantee
4 varsity divisions
2 JV divisions
Great facilities
Discounted Blue Jackets tickets - click here for details >
Close to shopping, restaurants and entertainment
Please support our host hotels.
Click here for Marriott hotel booking info >
Click here for Embassy Suites hotel booking info >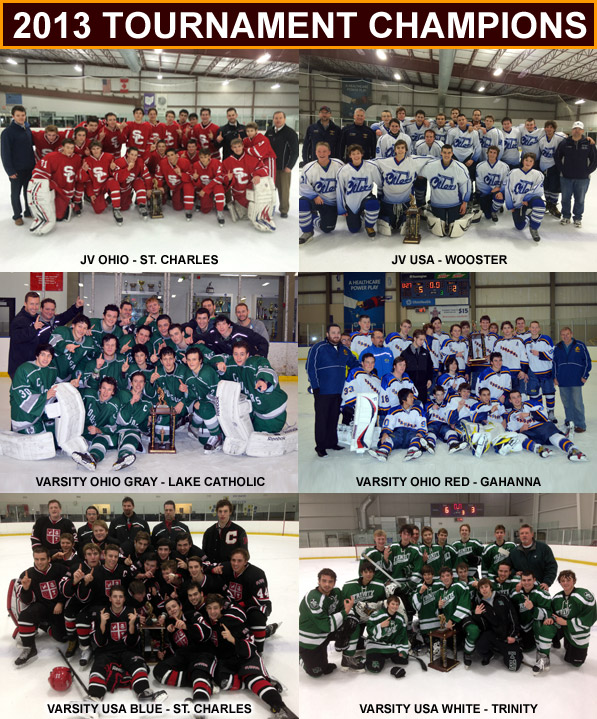 Upcoming Events (See all)
2014 Hockey Equipment Swap
Join us Saturday, September 20th, 12:00-2:00pm at OhioHealth Chiller North for the 2014 Hockey Equipment Swap. Donate used equipment at any OhioHealth Chiller location and receive two free CBJ pre-season ticket vouchers.