Saturday Night Hockey
Why spend another Saturday night at home when you can get great exercise, improve your game and meet others who love hockey as much as you do?
What: Saturday Night Hockey
When: Saturday Nights (see schedule below for dates and times)
Where: OhioHealth Chiller Easton
What?s included:
40 minutes of complete hockey instruction - skating, passing shooting, positional play
45 minutes of controlled scrimmage - instructor will "ref" as well as provide pointers and positional explanation throughout
Who: Open to players 18 and over, skill levels of C & D & E as defined by CAHL rules - you do not have to be an active member of the CAHL
How Much: $16 for CAHL rostered players, $20 for non-rostered players - Goalies are FREE!
There is no session commitment - pay as you go, come as often as you like.
Limited to 30 skaters - call ahead, reservations accepted day of - 614-475-7575.
Saturday Night Hockey
Upcoming Events (See all)
Drumstick Jr. Stinger Hockey Clinic
Hockey clinic for ages 4-6. Must be able to skate in full hockey gear.
CAHL C, D & E Level Goalie Clinics
CAHL C, D & E Level Goalie Clinics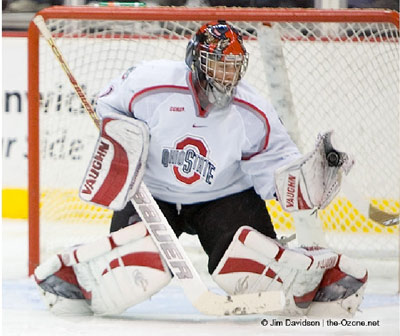 Sunday, November 30, 2014

Session 1: 3:00-4:30pm
Session 2: 4:45-6:00pm

Location: OhioHealth Chiller Easton
Cost: $35 per session

Lead Coach: Dave Caruso

CAMP WILL FOCUS ON:
Goalie Specific Movement (when and how to use t-pushes, shuffles, butterfly slides, c-cuts, lateral adjustments)
Proper Positioning and Depth Awareness (angles, square to puck, reading and reacting to game situations)
Proper Save Techniques and Execution (butterfly save, stick saves, body saves, glove and blocker saves)
Pro tips to help goalies STOP MORE PUCKS!
Use of Video (Immediate Feedback)
ABOUT COACH DAVE:
Goalie Development Coach, New Jersey Devils (2012-2014)
6-season professional career (2006-2012)

52 AHL games
186 ECHL games

4 seasons at the Ohio State University (2002-2006)

11 shutouts and a 2.07 goals-against average
Helped lead team to 3 NCAA Tournament berths and the 2004 CCHA Mason Cup
Register for camp online >

Download a printable registration form >
For more information contact Rob Schriner 614-791-9999 x125 or rschriner@thechiller.com.
Blue Jackets vs. Panthers
Go Jackets!