Chiller Hockey Camp
Summer 2013
Designed for players in Jr. Jackets looking to transition to team play.
Ages 6-12
About Chiller Hockey Camp:
This summer camp is designed to help improve and advance hockey skills. Participants will learn about team play through on and off-ice instruction and a lot of fun along the way!
The Chiller Hockey Camps will be coached by Andrew Cassels, former Columbus Blue Jackets Center and 16-year NHL veteran.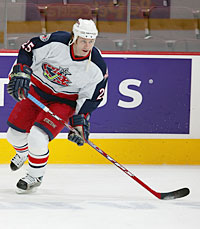 Camp Includes:
Instruction with focus on skating, shooting, passing, and stick handling
Off-ice activities including: conditioning, strategy "chalk talk," equipment fitting and care
Certificate of Participation
Dates/Times/Cost:
Easton - $225
Monday - Friday
June 17-21, 2013
9:00-11:45am
North - $225
Monday - Friday
June 24-28, 2013
9:00-11:45am
Dublin - $225
Monday - Friday
July 22-26, 2013
9:00-11:45am
Itinerary:
8:30am Arrive
9:00-10:15am On ice
10:15-10:45am Off ice
10:45-11:45am On ice
Required Gear:
Hockey Helmet with Facemask
Hockey Skates (rentals included with registration)
Hockey Stick
Hockey Pants
Elbow Pads
Hockey Gloves
Shin Pads
Please have students wear the following to camp:
Athletic Pants/shorts
T-shirt/Sweatshirt
Athletic Shoes (no sandals)
Visit Crossover Sports at North and Easton for all your equipment needs.
Download a printable registration form >
For more information, please contact Hockey Director Rob Schriner at 614-791-9999 x125 or rschriner@thechiller.com.