Chiller Hockey Camp
Summer 2013
Designed for players in Jr. Jackets looking to transition to team play.
Ages 6-12
About Chiller Hockey Camp:
This summer camp is designed to help improve and advance hockey skills. Participants will learn about team play through on and off-ice instruction and a lot of fun along the way!
The Chiller Hockey Camps will be coached by Andrew Cassels, former Columbus Blue Jackets Center and 16-year NHL veteran.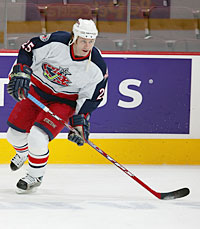 Camp Includes:
Instruction with focus on skating, shooting, passing, and stick handling
Off-ice activities including: conditioning, strategy "chalk talk," equipment fitting and care
Certificate of Participation
Dates/Times/Cost:
Easton - $225
Monday - Friday
June 17-21, 2013
9:00-11:45am
North - $225
Monday - Friday
June 24-28, 2013
9:00-11:45am
Dublin - $225
Monday - Friday
July 22-26, 2013
9:00-11:45am
Itinerary:
8:30am Arrive
9:00-10:15am On ice
10:15-10:45am Off ice
10:45-11:45am On ice
Required Gear:
Hockey Helmet with Facemask
Hockey Skates (rentals included with registration)
Hockey Stick
Hockey Pants
Elbow Pads
Hockey Gloves
Shin Pads
Please have students wear the following to camp:
Athletic Pants/shorts
T-shirt/Sweatshirt
Athletic Shoes (no sandals)
Visit Crossover Sports at North and Easton for all your equipment needs.
Download a printable registration form >
For more information, please contact Hockey Director Rob Schriner at 614-791-9999 x125 or rschriner@thechiller.com.
Upcoming Events (See all)
Turcotte Stickhandling Hockey School
Improve your stickhandling skills with Turcotte's top quality instruction for mite, squirt and peewee, December 21-23 at OhioHealth Chiller Easton.
Jr. Stinger Holiday Clinic
Holiday hockey clinic series for ages 4-6. Your tot will have lots of fun while improving their hockey skills.
Holiday Hockey Camp
Junior Jackets and House League players will sharpen skills and have fun with friends during this 3 day holiday series of hockey clinics.
Chiller Blog(See all)
Speedskating Learn to Skate Class
Catch the excitement of the fastest sport on ice! This class will teach you the basic skills you need to become a short track speedskater or to simply join our club for fun and fitness! This is an introductory class and beginners are welcome.
Drumstick Hockey Clinics for ages 4 to adult
Sharpen your skills over the Thanksgiving holiday with our Drumstick Hockey Clinics.
CAHL Practice Ice Special
Keep your team on the ice and get the edge on the competition! Book your practice ice now at the special CAHL discounted rate.