Goalie Camp 2017
TUNE-UP FOR TRYOUTS AND PLAY LIKE A PRO!
Join goalie coach Dave Caruso and his experienced staff for this fun and challenging 5 session goalie camp.

March 24-May 14, Fridays & Sundays
Group 1 - Travel/AAA/AA/A (02-07) - $235
Group 2 - Fundamental Group (02-08) - $205
Click here for daily schedule >

Camp emphasis is to help prepare goalies for tryouts and improve goalie's technical skills, mental skills, athletic skills and hockey sense.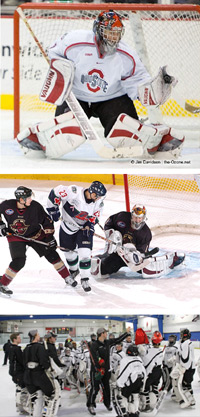 Goalie Skating Movements (shuffles, t-pushes, c-cuts, edge work, balance, agility)
Fundamental Saves with Rebound Control (glove/blocker, stick usage, body and butterfly saves)
On Ice and Full Recovery/Movement (recovering to edges, butterfly slides, lateral adjustments and lateral release)
Positioning (angles, depth and being square)
Game Situations (save selections, behind the net plays, screen/traffic, deflections, breakaways and proper use of butterfly, RVH and VH saves)
Puckhandling (passing, distributing the puck)
Off Ice Training (proper warmup, eye/hand coordination, visualization and developing more athleticism)
About Coach Dave Caruso:
USA Hockey Goalie Development Coordinator - Mid Am District (2016-present)
Ohio AAA Blue Jackets Goalie Coach (2016-present)
Goalie Development Coach, New Jersey Devils (2012-2014)
6-season professional career (2006-2012)\

52 AHL games
186 ECHL games

4 seasons at the Ohio State University (2002-2006)

11 shutouts and a 2.07 goals-against avg.
Helped lead team to 3 NCAA Tournament berths and the 2004 CCHA Mason Cup
Register online >

Download a printable informational flier >

For more information contact Rob Schriner - rschriner@thechiller.com or 614-791-9999 x125.