Special Events
The OhioHealth Chiller Ice Rinks offer a variety of special skating events including ice shows, exhibitions, competitions and clinics. Shows and exhibitions are a great way for skaters to showcase their skills in front of an audience and enjoy the results of their practice.
---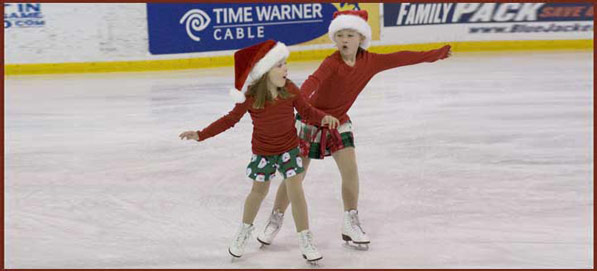 Kick off the Holiday Season! Join us for the Chiller Holiday Ice Show!
Sunday November 24, 2013
4:00-6:00 PM
OhioHealth Chiller North
All local figure skaters and Chiller Learn to Skate students are invited to participate!
Click here to download a printable group rehearsal schedule >
Click here for show announcements >
Upcoming Events (See all)
Turcotte Stickhandling Hockey School
Improve your stickhandling skills with Turcotte's top quality instruction for mite, squirt and peewee, December 21-23 at OhioHealth Chiller Easton.
Jr. Stinger Holiday Clinic
Holiday hockey clinic series for ages 4-6. Your tot will have lots of fun while improving their hockey skills.
Holiday Hockey Camp
Junior Jackets and House League players will sharpen skills and have fun with friends during this 3 day holiday series of hockey clinics.
Chiller Blog(See all)
Speedskating Learn to Skate Class
Catch the excitement of the fastest sport on ice! This class will teach you the basic skills you need to become a short track speedskater or to simply join our club for fun and fitness! This is an introductory class and beginners are welcome.
Drumstick Hockey Clinics for ages 4 to adult
Sharpen your skills over the Thanksgiving holiday with our Drumstick Hockey Clinics.
CAHL Practice Ice Special
Keep your team on the ice and get the edge on the competition! Book your practice ice now at the special CAHL discounted rate.