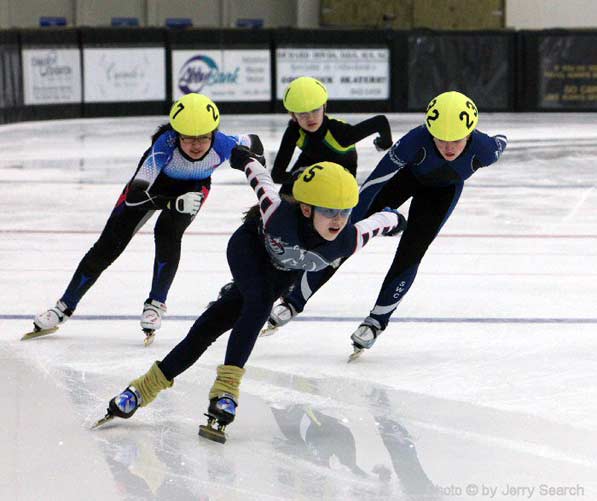 ---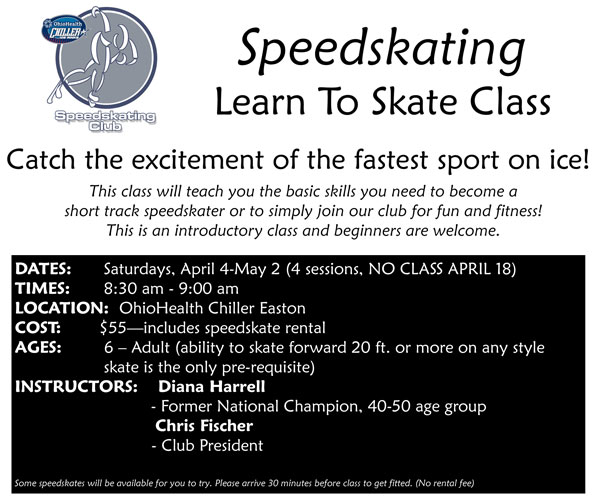 Download a printable registration form >
For more information, please contact Diana Harrell - spdsk8r.harrell@gmail.com.
---
Speedskating
Speedskating is the fastest sport on ice and the OhioHealth Chiller is home to Central Ohio's first and only short track speedskating club. Our club formed in June 2002 and we are fortunate to have former US Olympian Charles King as club coach.
Speedskating is a great sport for almost anyone. Our club is open to skaters from beginner to experienced, boys and girls, men and women. We have members who skate because they want to race and compete while others skate just for fun and fitness! Most skaters are new to speedskating when they first join our club although some have experience playing hockey, figure skating and inline skating. All are welcome!
For more information on the Chiller Speedskating Club contact Chris We typically practice Wednesday evenings, and Saturday mornings (view schedule), so stop by and check it out for yourself! We have a limited selection of rental skates available for club use.
Fun Facts About Speedskating (courtesy of
tryspeedskating.com
)
Speedskating originated as a means of transportation for Vikings to cross frozen rivers and lakes
Speedskating is the first of the major ice sports (speedskating, hockey, figure skating) and originated in Europe
The first speedskating club in the US was formed in Philadelphia in 1849
Short Track Racing Explained
Short Track Speedskating takes place on a 111.12 meter oval on either a standard hockey rink or larger Olympic rink. Following are the distances in meters and number of laps of several short track races:
222 meters = 2 laps
333 meters = 3 laps
444 meters = 4 laps
500 meters = 4.5 laps
611 meters = 5.5 laps
1000 meters = 9 laps
1500 meters = 13.5 laps
3000 meters = TIRED LEGS! (27 laps)
The 500 meter world record for men on the short track is less than 42 seconds. That is about 27 mph, but because a skater's path is longer than the measured oval, skaters may actually be going faster than 30 mph!
Watch speedskating videos