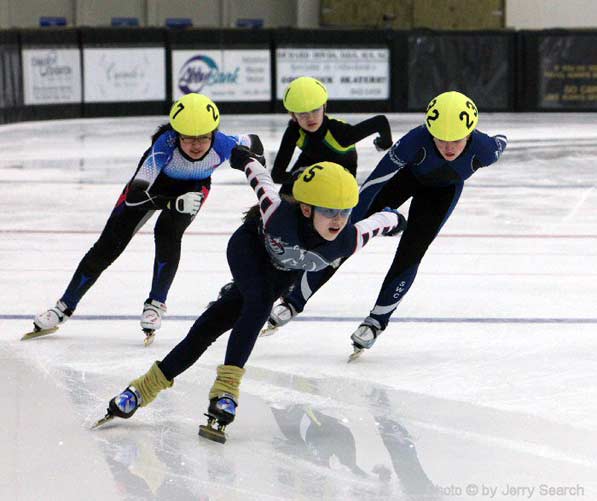 Speedskating
Speedskating is the fastest sport on ice and the OhioHealth Chiller is home to Central Ohio's first and only short track speedskating club. Our club formed in June 2002 and we are fortunate to have former US Olympian Charles King as club coach.
Speedskating is a great sport for almost anyone. Our club is open to skaters from beginner to experienced, boys and girls, men and women. We have members who skate because they want to race and compete while others skate just for fun and fitness! Most skaters are new to speedskating when they first join our club although some have experience playing hockey, figure skating and inline skating. All are welcome!
For more information on the Chiller Speedskating Club contact David. We typically practice Wednesday evenings, and Saturday mornings (view schedule), so stop by and check it out for yourself! We have a limited selection of rental skates available for club use.
Head Coach Charles King - Chiller Speedskating Club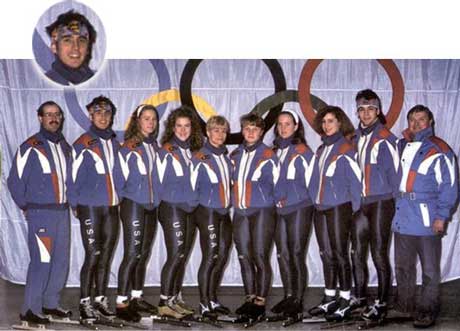 Coach King as a member of the 1992 U.S. Olympic Short Track Team (2nd from left)
The Chiller Speedskating Club is fortunate to be coached by someone who has competed in Short Track at the highest level possible, all over the world.
Coach King hails from Studio City, California where he dominated the sport from 1980-86 when he was California State Champion. He won National Champion in 1987 in New Jersey.
From 1987 to 1995, Coach King competed at the World Team Championships in England, Australia, Japan, Poland, Norway and Holland and was also a member of the World University Team competing in Bulgaria, Japan and Poland. As a member of the World Team, he medaled in several events.
In 1992, Coach King was a member of the U.S. Olympic team and competed in Albertville, France.
Fun Facts About Speedskating (courtesy of tryspeedskating.com)
Speedskating originated as a means of transportation for Vikings to cross frozen rivers and lakes
Speedskating is the first of the major ice sports (speedskating, hockey, figure skating) and originated in Europe
The first speedskating club in the US was formed in Philadelphia in 1849
Short Track Racing Explained
Short Track Speedskating takes place on a 111.12 meter oval on either a standard hockey rink or larger Olympic rink. Following are the distances in meters and number of laps of several short track races:
222 meters = 2 laps
333 meters = 3 laps
444 meters = 4 laps
500 meters = 4.5 laps
611 meters = 5.5 laps
1000 meters = 9 laps
1500 meters = 13.5 laps
3000 meters = TIRED LEGS! (27 laps)
The 500 meter world record for men on the short track is less than 42 seconds. That is about 27 mph, but because a skater's path is longer than the measured oval, skaters may actually be going faster than 30 mph!
Watch speedskating videos
Upcoming Events (See all)
Make CF History Charity Classic Hockey Tournament
Men's and women's adult amateur hockey tournament, silent auction, public skate and stick and puck for kids, kid's pond hockey tournament and more, all benefiting the Cystic Fibrosis Foundation and CF Research.
Make CF History Kid's Pond Hockey Tournament
Kid's pond hockey tournament, silent auction, public skate and stick and puck for kids, and more, all benefiting the Cystic Fibrosis Foundation and CF Research.
Chiller Hockey Camp - Easton
This summer camp is designed to help improve and advance hockey skills. Participants will learn about team play through on and off-ice instruction and a lot of fun along the way!
Chiller Blog(See all)
Cheap Skates are back!
Cheap Skates offer a discounted admission rate of $5 per student or adult. Kids 4 and under are free!
The Importance of Good Hygiene
Practicing good hygiene is an important part of athletic endeavors. Without taking proper care of yourself and your equipment, you run the risk of contracting a skin infection.
CAHL Practice Ice Special
Keep your team on the ice and get the edge on the competition! Book your practice ice now at the special CAHL discounted rate.