Chiller Speedskating Club Skates to 5 State Championships!
February 27, 2012 - Speed Skating
The Chiller Speedskating Club skated away with five state champions Saturday at the State Championships in Cleveland Heights!
More than a few personal bests were skated and our relay teams did an excellent job even though they didn't bring home the team trophy! Here's a breakdown of how they did:
Alexa Fisher—3rd place Tiny Tot Girls---Her very first meet!!!
Jacob Sayat—1st place Pony B Boys
Griffin Gianonne—2nd place Pony B Boys
Sarah Harrell—4th place Pony A Girl
Alec Hall—3rd place Midget B Boys
Danielle Amos—1st place Juvenile A Girls
Matthew Rodier—1st place Juvenile B Boys
Sue Tkach—1st place Master 30-39 Women
Derrick Coles—1st place Master 30-39 Men
Diana Harrell—2nd places Master 40+ Women
David Lee—2nd place Master 40+ Men
Lonnie Amos—3rd place master 40+ Men
Glen Gardner—4th place master 40+ Men
Chris Fisher—6th place master 40+ Men
Congratulations to all our great skaters!
In this pic: 1st row: Alexa Fisher, Danielle Amos, Jacob Sayat
2nd row: Lonnie Amos, David Lee, Diana Harrell, Sarah Harrell, Griffin Giononne, Derrick Coles
Not pictured: Glen Gardner, Alec Hall, Matthew Rodier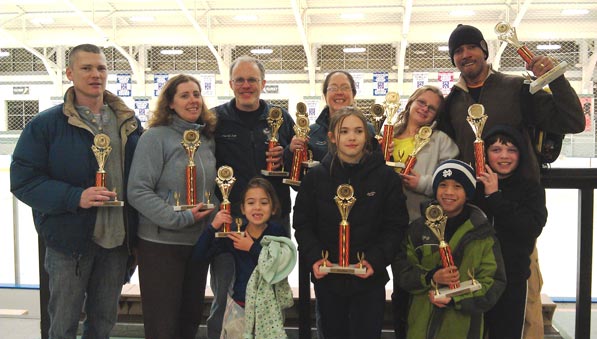 ---
Comments
ini ke 16 Jual besi cnp undangan pernikahan animasi Harga Plat Bordes Kembang Pabrik Besi H beam Baja Pabrik Plat Bordes harga besi beton psi Ulir Polos Distributor Besi Beton Distributor Besi Beton Jual baja ringan www.gudangbesibaja.com undangan pernikahan cantik Harga Plat Besi Hitam Distributor Atap Spandek Distributor Bondek Cor harga besi beton perwira Harga Besi Beton Harga Besi Beton Jual bondek harga besi Wf Baja undangan pernikahan cantik elegan sewa villa bukit danau Harga Plat Kapal Bki Krakatau Steel Supplier Atap Spandek Harga Bondek Cor harga besi beton PAS Jual Besi Beton Jual Besi Beton Jual Plat kapal besi baja bki krakatau steel Harga bondek undangan pernikahan cetak Harga Jual Besi Siku Baja Agen Atap Spandek Jual Bondek Cor harga besi beton master steel ms Supplier Besi Beton Supplier Besi Beton Jual besi siku harga wiremesh undangan pernikahan custom Harga Besi Unp Baja Profil Kanal Toko Atap Spandek Supplier Bondek Cor harga besi beton ksty Toko Besi Beton Toko Besi Beton Jual pipa besi baja sch 40 sch 80 Harga pipa besi baja sch 40 sch 80 undangan pernikahan bagus Harga Besi Cnp Profil Baja Gording Jual Atap Spandek Toko Bondek Cor harga besi beton krakatau steel Agen Besi Beton Agen Besi Beton Jual Plat besi harga besi hollow undangan pernikahan anime Harga Besi Hollow Harga Atap Spandek Agen Bondek Cor harga besi beton jcac Pabrik Besi Beton Pabrik Besi Beton Jual besi h beam harga besi beton Sni Ulir Polos undangan pernikahan aneh Harga Wiremesh Pabrik Atap Spandek Pabrik Bondek Cor harga besi beton interworld steel is
Comment by R HILDAN M on November 16, 2018 @ 8:51 AM
I took 1 st personal loans when I was 25 and that aided my relatives very much. Nevertheless, I need the consolidation loans over again.
Comment by KathieSosa on December 2, 2012 @ 5:54 PM
cool!!
Comment by - on July 16, 2012 @ 8:46 PM
AWESOME
Comment by Jacob on February 29, 2012 @ 6:57 PM
<- Back