Chiller Speedskating Club Skates to 5 State Championships!
February 27, 2012 - Speed Skating
The Chiller Speedskating Club skated away with five state champions Saturday at the State Championships in Cleveland Heights!
More than a few personal bests were skated and our relay teams did an excellent job even though they didn't bring home the team trophy! Here's a breakdown of how they did:
Alexa Fisher—3rd place Tiny Tot Girls---Her very first meet!!!
Jacob Sayat—1st place Pony B Boys
Griffin Gianonne—2nd place Pony B Boys
Sarah Harrell—4th place Pony A Girl
Alec Hall—3rd place Midget B Boys
Danielle Amos—1st place Juvenile A Girls
Matthew Rodier—1st place Juvenile B Boys
Sue Tkach—1st place Master 30-39 Women
Derrick Coles—1st place Master 30-39 Men
Diana Harrell—2nd places Master 40+ Women
David Lee—2nd place Master 40+ Men
Lonnie Amos—3rd place master 40+ Men
Glen Gardner—4th place master 40+ Men
Chris Fisher—6th place master 40+ Men
Congratulations to all our great skaters!
In this pic: 1st row: Alexa Fisher, Danielle Amos, Jacob Sayat
2nd row: Lonnie Amos, David Lee, Diana Harrell, Sarah Harrell, Griffin Giononne, Derrick Coles
Not pictured: Glen Gardner, Alec Hall, Matthew Rodier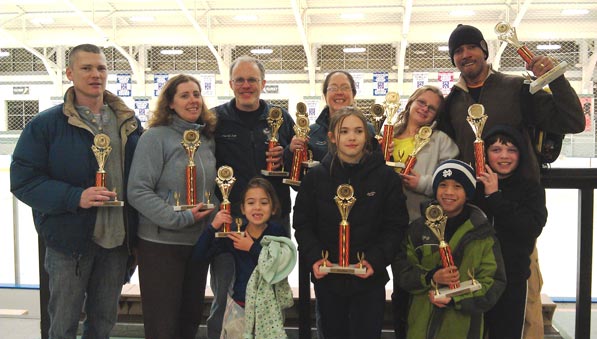 ---
Comments
I took 1 st personal loans when I was 25 and that aided my relatives very much. Nevertheless, I need the consolidation loans over again.
Comment by KathieSosa on December 2, 2012 @ 5:54 PM
cool!!
Comment by - on July 16, 2012 @ 8:46 PM
AWESOME
Comment by Jacob on February 29, 2012 @ 6:57 PM
<- Back
Upcoming Events (See all)
Turcotte Stickhandling - Mite/Squirt/PeeWee
Give your player the chance to develop to their fullest potential and let them experience the fun of learning different stickhandling moves.
Chiller Hockey Camp - North
Summer 2018 - Ages 6-12 - Designed for players in Junior Jackets hockey classes looking to join a team this fall and for current House players, Chiller Hockey Camp will get players ready for team play through on and off-ice instruction and campers will have a lot of fun along the way!
Chiller Hockey Camp - Dublin
Summer 2018 - Ages 6-12 -
CHILLER HOCKEY CAMP
SUMMER 2018 | AGES 6-12 | EASTON/NORTH/DUBLIN
Designed for players in Junior Jackets hockey classes looking to join a team this fall and for current House players, Chiller Hockey Camp will get players ready for team play through on and off-ice instruction and campers will have a lot of fun along the way!

Head Coach: Darcy Cahill, Head Coach St. Francis DeSales High School

Camp Includes:
Instruction with focus on skating, shooting, passing and stick-handling
Off-ice activities including conditioning, strategy "chalk talk," equipment fitting and care
Certificate of Participation
Camp Itinerary
Arrive 8:00am
On-ice 8:30am-9:45am
Rest/chalk talk 9:45-10:15am
On-ice 10:15-11:15am
Off-ice 11:15-11:45am
Pick up 11:45am
EASTON
June 18-22, 2018
8:30-11:45am
Cost: $250
Register online >

NORTH
July 16-20, 2018
8:30-11:45am
Cost: $250
Register online >

DUBLIN
August 6-10, 2018
8:30-11:45am
Cost: $250
Register online >

Sign up for two weeks of Chiller Hockey Camp and receive $100 off the second week of Chiller Hockey Camp. Must contact Kelly at kfogt@thechiller.com to receive the discount.

Required Gear:
Hockey Helmet with Facemask
Hockey Skates (rentals included with registration)
Hockey Stick
Hockey Pants
Elbow Pads
Hockey Gloves
Shin Pads
Wear to Camp:
Athletic Pants/Shorts
T-shirt/Sweatshirt
Athletic Shoes (no sandals)
Easton - Register online >
North - Register online >
Dublin - Register online >
For more information, please contact Hockey Director Rob Schriner:
rschriner@thechiller.com | 614-791-9999 x125