Try Synchro Free Day - Sunday, March 11
March 2, 2012 - Figure Skating
Try Synchro Free Day
Sunday, March 11th
Chiller Easton
5:30pm

An additional Try Synchro Free Day is scheduled for Aug 5th.
Tryouts will be held Aug.19th.

Synchronized Team Skating combines elements of skating, footwork, dance and precision into an exciting on-ice performance. It is the team aspect that encourages camaraderie and long term participation in skating.

"Our daughter has always been very quiet and shy, and skating in front of a crowd seemed like an unbelievable goal for our 8-year-old! She has surpassed all of our expectations. When she skated in her first show, the smile on her face and her chin held high was an unbelievable sight! Skating synchro has brought our daughter out of her shell!"

Off-Ice Practice
5:30-6:00
For skaters with no prior synchro experience
Learn warm up exercises, skating positions and holds.

On-Ice
6:15-6:45
New skaters—come join us on the ice! We will teach you some synchronized moves and formations.*

Clinic Attire:
Female skaters should wear appropriate skating clothes—no jeans, please. Long hair should be pulled back in a ponytail neatly away from face. No gloves, jewelry or shirts with a hood for safety reasons.

*Skaters should be able to skate on their own without assistance.

Recommended for Basic 3 and up.

Click here for more info >

RSVP & Questions contact Denise Hughes at dhughes@thechiller.com.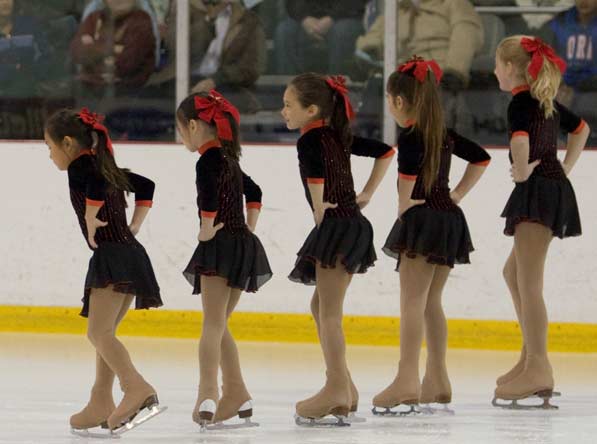 <- Back