Free circus ticket voucher to first 75 kids attending public skate Sunday, Sept. 18
September 9, 2016 - Public Skating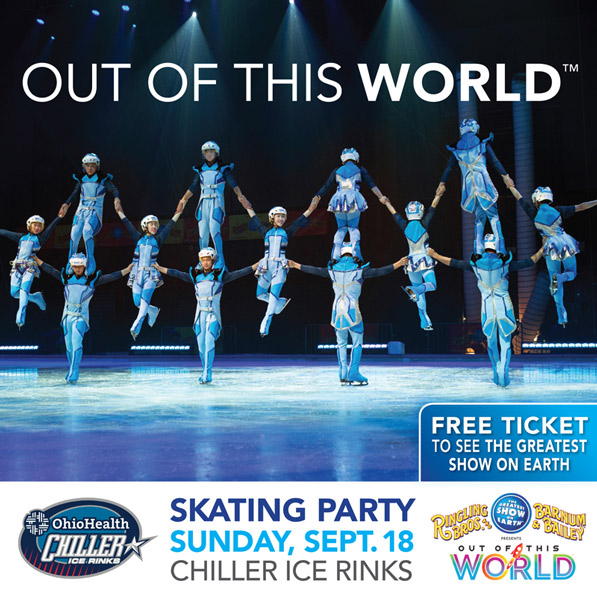 The all new circus by Ringling Bros. and Barnum & Bailey, Out of this World, adds the element of ice to the circus floor.

See for yourself the tricks and stunts that can be performed on ice skates for free. The first 75 kids to open skate on Sunday, Sept. 18 will get a free ticket voucher to see the show at the Schottenstein Center on Oct. 14, 2016.

The OhioHealth Chiller Easton location will even have a real Ringling Bros. and Barnum & Bailey clown from 1:30-3:30 pm!


<- Back
Upcoming Events (See all)
Turcotte Stickhandling - Mite/Squirt/PeeWee
Give your player the chance to develop to their fullest potential and let them experience the fun of learning different stickhandling moves.
Chiller Hockey Camp - North
Summer 2018 - Ages 6-12 - Designed for players in Junior Jackets hockey classes looking to join a team this fall and for current House players, Chiller Hockey Camp will get players ready for team play through on and off-ice instruction and campers will have a lot of fun along the way!
Chiller Hockey Camp - Dublin
Summer 2018 - Ages 6-12 -
CHILLER HOCKEY CAMP
SUMMER 2018 | AGES 6-12 | EASTON/NORTH/DUBLIN
Designed for players in Junior Jackets hockey classes looking to join a team this fall and for current House players, Chiller Hockey Camp will get players ready for team play through on and off-ice instruction and campers will have a lot of fun along the way!

Head Coach: Darcy Cahill, Head Coach St. Francis DeSales High School

Camp Includes:
Instruction with focus on skating, shooting, passing and stick-handling
Off-ice activities including conditioning, strategy "chalk talk," equipment fitting and care
Certificate of Participation
Camp Itinerary
Arrive 8:00am
On-ice 8:30am-9:45am
Rest/chalk talk 9:45-10:15am
On-ice 10:15-11:15am
Off-ice 11:15-11:45am
Pick up 11:45am
EASTON
June 18-22, 2018
8:30-11:45am
Cost: $250
Register online >

NORTH
July 16-20, 2018
8:30-11:45am
Cost: $250
Register online >

DUBLIN
August 6-10, 2018
8:30-11:45am
Cost: $250
Register online >

Sign up for two weeks of Chiller Hockey Camp and receive $100 off the second week of Chiller Hockey Camp. Must contact Kelly at kfogt@thechiller.com to receive the discount.

Required Gear:
Hockey Helmet with Facemask
Hockey Skates (rentals included with registration)
Hockey Stick
Hockey Pants
Elbow Pads
Hockey Gloves
Shin Pads
Wear to Camp:
Athletic Pants/Shorts
T-shirt/Sweatshirt
Athletic Shoes (no sandals)
Easton - Register online >
North - Register online >
Dublin - Register online >
For more information, please contact Hockey Director Rob Schriner:
rschriner@thechiller.com | 614-791-9999 x125