Winter Park presented by Worthington Industries
January 12, 2018 - Special Events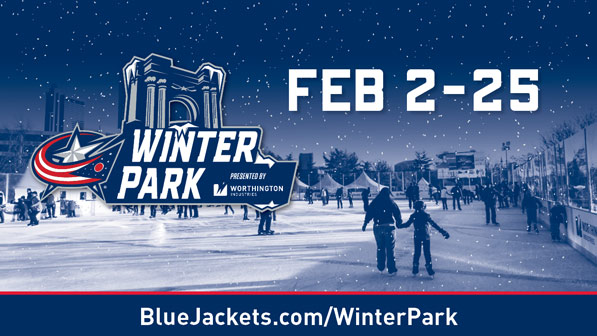 Blue Jackets Winter Park presented by Worthington Industries will return Friday, Feb. 2 through Sunday, Feb. 25 at McFerson Commons across the street from Nationwide Arena.

The centerpiece of Winter Park returns with an NHL-sized ice rink that is open for public skating, hockey and a variety of community events.
More info here - http://bluejackets.com/winterpark
---
Outdoor Practice - Wednesday, January 31 | 12:00PM

In advance of the official opening, the Blue Jackets are scheduled to hold a brief team practice at the outdoor rink on Wednesday, January 31 at noon. The practice will be open to the public and free of charge. Practice date and time is subject to change based on team schedule and weather conditions.
View photos from last year's practice >
---
Community Rink
The outdoor rink is equipped with bleacher seating for approximately 250 people, a skate rental tent and four heated locker rooms.
A special heated viewing tent to watch the skating.
A complete schedule of public sessions will be available soon.
Interested in a private skate rental? Click here!
Public skate times coming soon!
<- Back