Shelby Stewart Wins Team Chiller Continuing Education Scholarship
June 10, 2011 - Figure Skating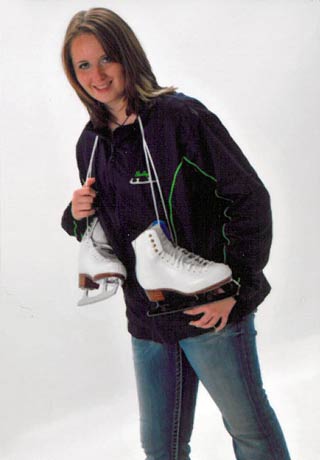 Congratulations to Shelby Stewart, winner of the Team Chiller Continuing Education Scholarship honoring Martha Jankowski!
Shelby's essay is below. Way to go Shelby!
Team Chiller Continuing Education Scholarship
Personal Essay
As I prepare myself for the next chapter of my life, I find myself spending a great deal of time thinking about my past, the people I care about, and the things that have shaped me into the person I am today. Out of each of these thoughts come a series of memories that bring tears to my eyes and a smile to my face. These memories center around one of the most important and life-changing pieces of my past: Team Chiller.
When I was first introduced to Team Chiller, I was painfully shy and self-conscious. I had just entered the fourth grade and I was attending a new school. I do not remember too much from that first year, but I do remember attending the lock-in that was being held to kick off the season. I walked into The Chiller terrified that evening, completely uncomfortable with the fact that I did not know a soul. I strode out the next morning with newfound feelings of belonging, confidence, and acceptance. From that point on, Team Chiller became a significant part of who I was. Sundays became my favorite day of the week, and I could not wait to do the two things that I loved most: spend time with my teammates and skate my heart out. Soon, I began to pass through the awkward stages of adolescence, but despite all of my imprudent words and actions, my teammates and coaches always stood by my side. No matter what I happened to be going through outside of skating, Team Chiller always had something for me to look forward to. I adored having competitions every few weeks, especially since each one was an adventure. So many of my most treasured memories come from these competitions: sledding at Miami University, getting lost in snowstorms in Michigan with Ms. Martha, hotel birthday parties, running around the Mall of America with my teammates, a guitar shaped pool in Nashville, late night story sessions with Ms. Cindy, and hilarious road trips with my best friends.
It was not long after I started synchronized skating that I began to consider the members of Team Chiller family. Coaches, parents, and fellow skaters became strong role models in my life constantly teaching me hard lessons, lessons that I could not learn anywhere else. Because of Team Chiller and its members, I now know how to laugh like there is no tomorrow. I know how to push myself to do better, even when I feel like giving up. I know what it means to have friends so true that they become your family. I know how to work with others, and how to encourage teammates to work together to achieve a common goal. I am no longer afraid to take risks, and to try my absolute best at whatever life throws at me. Most importantly, because of Team Chiller, I now know how important it is to live life to the fullest. Every moment of my life on Team Chiller? every laugh, disappointment, and friend? was absolutely incredible, and I would not trade any of those lessons or memories for the world.
Aristotle once said ?What is a friend? A single soul in two bodies.? For me, Team Chiller was a web of friends, a single soul in many bodies. My teammates have become my best friends, my sisters. On the ice we were one body, pulsing in sync with the music and each other. Off the ice we were much the same. As Oscar Wilde once said ?anybody can sympathize with the sufferings of a friend, but it requires a very fine nature to sympathize with a friend?s success.? As friends, this could not have been any more true to my experiences with the girls on Team Chiller. My problems became my team?s problems and my victories became my teammates victories, just as theirs became my own.
It is hard to say why I deserve the Martha Jankowski Continuing Education Scholarship, because for as much love, time, and dedication that I have poured into Team Chiller, my teammates have stood beside me doing the same. What makes me a good candidate, though, is the fact that I have come to share much of the same dedication and values that Martha Jankowski had while developing Team Chiller. Through her example, I learned how to positively and enthusiastically tackle any problem or roadblock that I may face. She taught me how to pour my heart and soul into this team and, thanks to her, it has helped me develop into a strong and reliable woman. Her hard work, encouragement, and loyalty truly taught me what it takes to do great things and become successful in life.
As I start the next chapter of my life and attend college this fall, I will use every one of the values I have learned from both Martha Jankowski and Team Chiller to guide myself to become the best person that I can be. If allowed this scholarship, I am certain that it will help me grow into an individual that is able to give to others, just as Team Chiller has given so much to me.
---
Comments
Good job Shelby! :D
Comment by Kevin Schwartz on June 17, 2011 @ 6:37 PM
Shelby, I'm so very proud to call you one of my best friends and i truly can't wait to see all of the wonderful things you will tackle in college :) I love you, Coral
Comment by Coral Cogar on June 14, 2011 @ 7:11 PM
<- Back