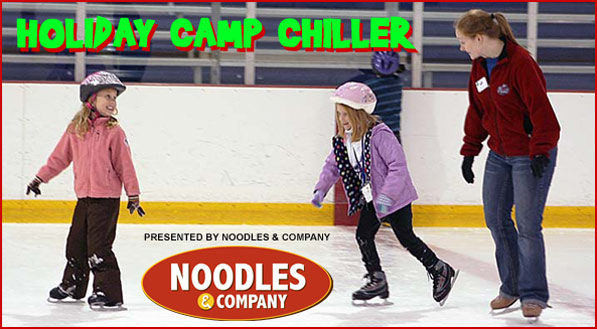 Holiday Camp Chiller
Already registered for camp?
Camp Forms: Welcome Letter | Camper Information Sheet | Lunch Order Form
A fun way for your kids to spend holiday break!
Holiday Camp Chiller, presented by Noodles & Company, will introduce your child to ice skating, as well as engage them in fun activities and projects.
Ages: 4-11
Pre-registration rates (due by December 15) - $40/day
Walk-in rate - $45/day
2015 Schedule
Dec. 21, 22, 23 & 24 (Mon/Tues/Wed)
Camp includes at least 4 hours of ice time for the week!
Camp activities include:
1 hour ice skating lesson from professional Chiller ice skating instructor (all levels welcome)
Additional on-ice free skate time featuring on-ice fun and games
Art projects and games
Songs and story time
Lunch - bring your own, or purchase from us
Each camper will receive:
A Camp Chiller t-shirt (must attend 2 days or more)
One public skating pass per day of attendance - $7 value!
What parents are saying about Camp Chiller
"Lots of fun! Great counselors and instructors!"
"Michael was sad today on his way to camp, because today was the last day of camp. Everybody did a fantastic job - we will definitely come again!"
"My kids love Camp Chiller. They won't do anything else."
"I was very pleased. My kids have never been on the ice before and their instructors were awesome! They are great with the kids - patient, warm & friendly."
"Great program! Sarah did more cool activities here then she's done at any other camp!"
"My 5 year old son Jacob loves and always looks forward to skating and all the other great activities at Camp Chiller."
For more camp information, please contact Pam at pmorlan@thechiller.com or 614-791-9999 x156.