MLK Youth Goalie Clinic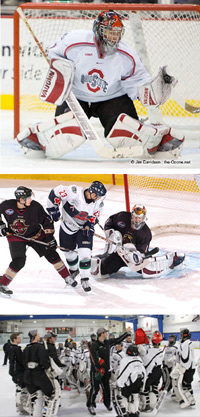 Sunday, January 14, 2018
OhioHealth Chiller Ice Works
9:40-11:10am

Ages: 8-18

Cost: $65

Lead Coach: Dave Caruso

LIMITED TO 12 GOALIES MAX
Clinic will focus on:

Goalie Specific Movement (when and how to use t-pushes, shuffles, butterfly slides, c-cuts, lateral adjustments)
Proper Positioning and Depth Awareness (angles, square to puck, reading and reacting to game situations)
Proper Save Techniques and Execution (butterfly save, stick saves, body saves, glove and blocker saves)
Pro tips to help goalies STOP MORE PUCKS!
About Coach Dave Caruso:
Goalie Development Coach, New Jersey Devils (2012-2014)
6-season professional career (2006-2012)

52 AHL games
186 ECHL games

4 seasons at the Ohio State University (2002-2006)

11 shutouts and a 2.07 goals-against average
Helped lead team to 3 NCAA Tournament berths and the 2004 CCHA Mason Cup
For more information contact Rob Schriner 614-791-9999 x125 or rschriner@thechiller.com.
Upcoming Events (See all)
2018 Hockey Equipment Sale
Join us Sunday, September 16, 12:00-4:00pm at OhioHealth Chiller North for our annual deeply discounted used equipment sale benefiting the Columbus Blue Jackets Foundation.