Chiller-Caruso SaveMaker Elite Goalie Camp
June 24, 2019 - 10:00 AM - OhioHealth Chiller North
Chiller-Caruso SaveMaker Elite Goalie Camp
Lead Instructor: Dave Caruso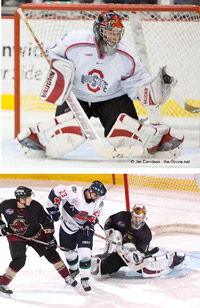 Location:
OhioHealth Chiller North
8144 Highfield Drive,
Lewis Center, OH
Date: June 24-28, 2019 (Monday-Friday)
Time: 10:00am-4:15pm
Ages/Level: 13 years old and older, must have played travel or high school hockey. Others need to be approved by Coach Caruso.
The Elite Camp is designed for goaltenders who want to push themselves to the next level. Goalies will work on conditioning, goalie specific agility and movement in the morning session. In the afternoon, goalies will be split into groups to work on save techniques, selection and game situations. We will focus on competitive and game-like situations. We will design new and innovative learning opportunities that professional and collegiate goalies are currently using.
We will have a mix of current college and junior level goaltenders to help give insight to the campers about what it takes to succeed and push their game to the next level. Due to NCAA restrictions, we cannot use their names or likenesses.
12.5 hrs on ice goalie specific exercises - goalie power skating, technical and game situational drills
7+ hrs off ice development to be lead by top trainers in Columbus. Training will include yoga, hand-eye coordination, flexibility, balance, and quick/active hands
3.75 hrs of video and goalie seminars on topics such as goal setting, motivation, routines, emotional regulation, self-control, positive attitude, coping with pressure, team work, managing energy levels, preparedness, perseverance, situational awareness and choosing the right equipment
Video review (NHL clips and current camp's goalie work)
Varsity, AAA, Junior, Collegiate, or Professional level shooters
Max 3:1 camper to instructor ratio
Lunch is provided everyday
Cost: $675

Each camper will receive a jersey, water bottle and "swag bag."
Raffles and prizes from the following sponsors: OhioHealth Chiller Ice Rinks, Vaughn Hockey, Vice Design, Caruso Hockey, Personal Best Consulting, Harbor Yoga and more.
For more information, please contact Coach Dave Caruso - carusohockey@gmail.com.
<- Back