Chiller Blog

COLUMBUS, OHIO – With demand for ice at unprecedented levels in Central Ohio, the OhioHealth Chiller Ice Rinks and JMAC, Inc., parent company of the Chillers and National Hockey League's Columbus Blue Jackets, are excited to announce expansion plans to add a third ice sheet at Chiller North, located in Lewis Center. Construction will begin soon with the goal of opening the new ice surface in December 2018.
The expansion at Chiller North, which will encompass approximately 30,000 square feet at a cost of $5 million, will be the third major Chiller project overseen by Rodgers Incorporated, including construction of Chiller North in 2004 and the NTPRD Chiller in Springfield in 2014.
"As youth and amateur hockey and skating programs continue to grow in Columbus, the timing is right for us to add to our nine existing ice sheets," said Wendy Herb, President and General Manager of the OhioHealth Chillers. "Our team is focused on providing the resources and opportunities for area youth and adults to participate in ice sports and recreation, and this additional rink will certainly help us do that."
The Chiller North expansion will add one regulation National Hockey League rink, 200 x 85 feet, four public locker rooms with shower facilities, as well as two larger private locker rooms that can serve as home base for area high school or travel hockey teams. The additional sheet of ice will provide approximately 80 weekly hours for high demand programming at the facility.
Chiller North is home to several area high school, youth and travel hockey programs. Additional programs include: the Blue Jackets Hockey School, Jr. Jackets Learn to Play and Learn to Skate classes, the Chiller Adult Hockey League, public skating sessions, birthday parties and private group rentals.
Mike Priest, President of JMAC, Inc. and the Blue Jackets, said growing the game of hockey at a grassroots level through participation opportunities has been a long-term commitment and passion of the McConnell family and the NHL club.
"The McConnell family, along with our Chiller staff and Blue Jackets team, is proud to provide opportunities for families and individuals of all ages to learn and play hockey and other ice sports," he said. "For nearly 25 years, our organizations have worked tirelessly to grow the game and we continue to meet increased demand through expanded locations, rinks and programming."
In Central Ohio in 1993 there was one two-rink Chiller facility located in Dublin and one youth hockey association comprised of 200 players, along with one varsity high school team, six adult teams made up of 100 players and 1,000 participants in skating and hockey classes.
In 2018, there are nine rinks at six Chiller facilities and six youth hockey organizations made up of over 3,000 players, along with 12 varsity, 16 junior varsity and five club programs for high school student-athletes, 209 adult teams with over 3,000 players and over 50,000 participants in skating and hockey classes. An estimated, 1,000,000 guests visit the OhioHealth Chiller Ice Rinks each year.
The Chillers Ice Rinks were established in 1993 with the opening of the Dublin location, which was the first of now six facilities including: Easton, Worthington, North and Springfield, as well as the OhioHealth Ice Haus, the Blue Jackets' practice rink at Nationwide Arena.
-Chillers -
---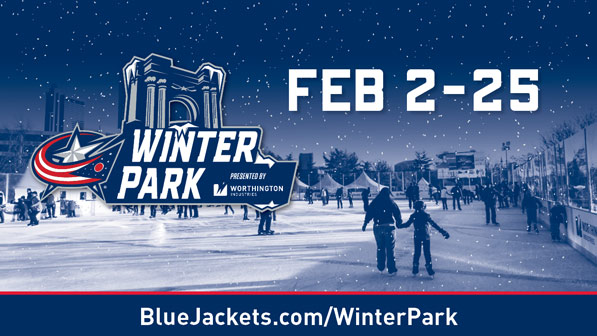 Blue Jackets Winter Park presented by Worthington Industries will return Friday, Feb. 2 through Sunday, Feb. 25 at McFerson Commons across the street from Nationwide Arena.

The centerpiece of Winter Park returns with an NHL-sized ice rink that is open for public skating, hockey and a variety of community events.
More info here - http://bluejackets.com/winterpark
---
Outdoor Practice - Wednesday, January 31 | 12:00PM

In advance of the official opening, the Blue Jackets are scheduled to hold a brief team practice at the outdoor rink on Wednesday, January 31 at noon. The practice will be open to the public and free of charge. Practice date and time is subject to change based on team schedule and weather conditions.
View photos from last year's practice >
---
Community Rink
The outdoor rink is equipped with bleacher seating for approximately 250 people, a skate rental tent and four heated locker rooms.
A special heated viewing tent to watch the skating.
A complete schedule of public sessions will be available soon.
Interested in a private skate rental? Click here!
Public skate times coming soon!
---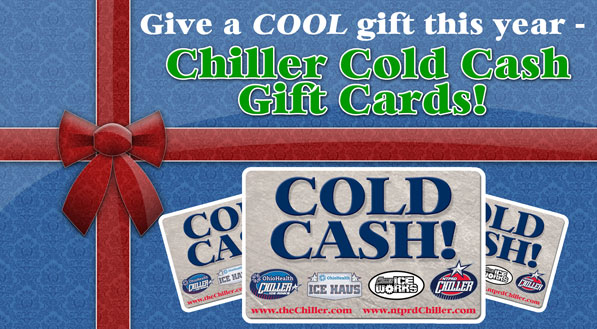 Give a COOL gift this year - Chiller Cold Cash Gift Cards!
Available in any dollar amount
No fees
Never expire
Good at all locations, 7 days a week
Redeem for:
Public Skate
Drop-In Hockey
Stick & Puck
Skating and Hockey Classes
Ice Box Concessions and more!
Questions? Email us at info@thechiller.com.


---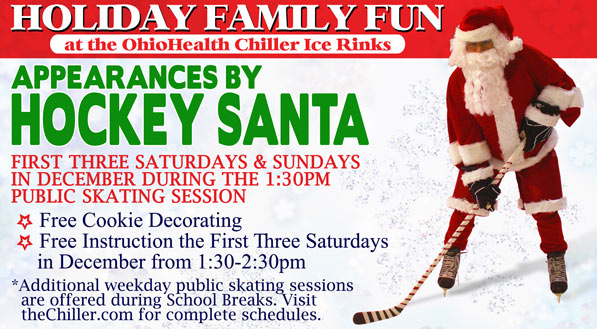 Hockey Santa's coming to town starting Saturday December 2 at our Dublin, Easton and North locations!
Hockey Santa will skate each Saturday and Sunday through December 17 between 1:30 and 3:30pm. And we offer free holiday cookie decorating! Create a great memory for your family at the OhioHealth Chillers!
Click here for pricing and complete schedules >

OhioHealth Chiller Dublin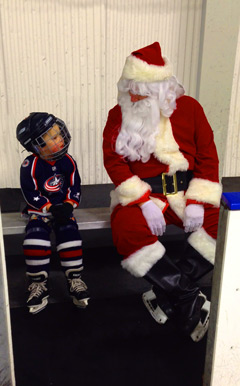 7001 Dublin Park Drive
Dublin, OH 43016
614-764-1000
Get directions >

OhioHealth Chiller Easton
3600 Chiller Lane
Columbus, OH 43219
614-475-7575
Get directions >

OhioHealth Chiller North
8144 Highfield Drive
Lewis Center, OH 43035
740-549-0009
Get directions >
---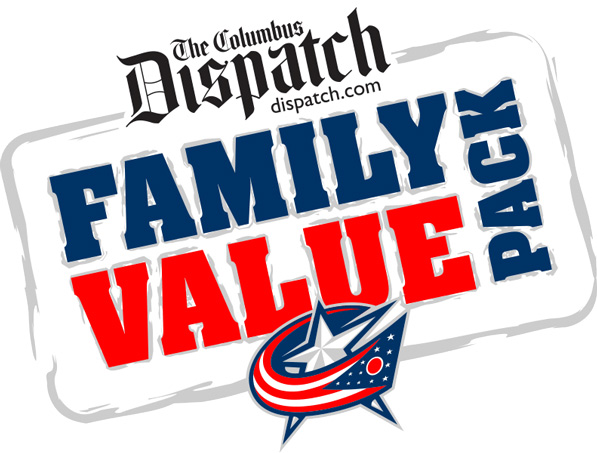 Dispatch Family Value Packs are a great value and great way to bring the family to a Blue Jackets game!
Includes a game ticket, hot dog, Pepsi, popcorn, and OhioHealth Ice Haus skating pass starting at $30
---