Chiller Blog · Hockey

Stick & Puck - Girls Ages 6-17
Sunday 04/30/2017 - 12:20 PM - North
Phone or walk-in registration only – beginning 8am day of session. Registration may be prepaid by phone with a credit card to reserve a spot. Call-in registration will be accepted from 8:00am day of the session up until an hour before the session starts. Those who prepay and do not arrive within the first 10 minutes of the session may be bumped if there is a waiting list. No refunds will be given if you cancel, are bumped or do not show. One hour before the session, only walk-in registrations will be accepted.
A parent or guardian must sign in each player, or player must bring signed release form to each session.

Download the release form (PDF) >

All Stick and Pucks are $14 per person (add'l $6 for parent), limit 20 skaters and 5 parents. FULL equipment is required for players (Helmet, Gloves, Elbow pads. Shin Pads, Hockey Pants, Shoulder Pads, Stick and Skates), parents must have a helmet and skates.
Stick and Puck is practice ice only. No games are permitted unless ALL players agree to play.

Please note: Prices, schedule and policies are subject to change.

To verify schedule, please call Easton - 614-475-7575 - or check the daily rink schedule.
---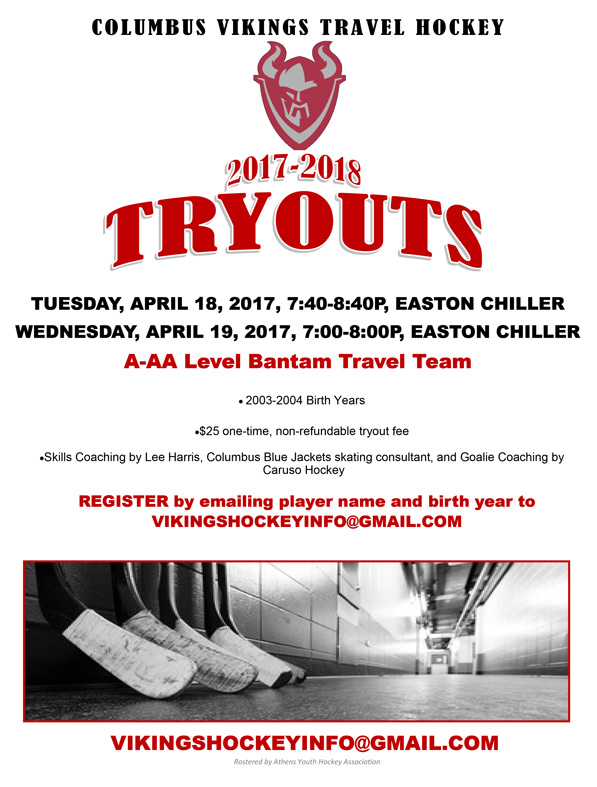 ---

Calling All Girls ages 4 and up!
Columbus Ice Hockey Club and our partner Newark Ice Hockey Association, our sponsor USA Hockey and International Ice Hockey Federation would like to invite girls of all ages and skill level to a FREE Hockey weekend beginning Friday, October 7th at OhioHealth Chiller Easton.
Columbus Ice Hockey Club coaches will have a TRY HOCKEY FOR FREE section, a Learn to Skate section and a cross-ice Jamboree section from 6:00pm to 7:20pm with a pizza party following for all those that registered for the weekend.
On Saturday, October 8th, Lou & Gibb Reese Ice Arena in Newark NIHA will host a similar event from 2:00pm to 3:20pm.
Previous Girls Hockey Weekend videos below:
Jocelyne Lamoureux-Davidson & Kelli Stack encouraging participation in GHW CLICK HERE
Meghan Duggan & Hilary Knight encouraging participation in GHW CLICK HERE
Hilary Knight's advice to young girls trying hockey for the first time CLICK HERE
Kelli Stack & Jocelyne Lamoureux-Davidson thank GHW participants CLICK HERE
For more information please email John Haferman at jmhaferman@columbus.gov.
---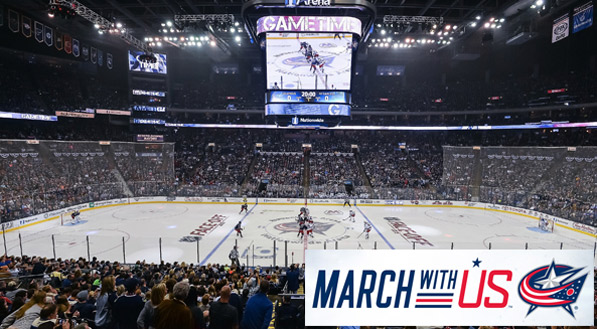 "March With Us" for the Columbus Blue Jackets Opening Night vs. the Boston Bruins, Thursday, October 13th.
All fans receive a 2016-17 Blue Jackets schedule magnet courtesy of Papa John's.

Arrive early for the plaza party, presented by Nationwide.

Watch as the players walk the 'blue' carpet into Nationwide Arena beginning at 3:30pm.

Don't miss your chance to be part of opening night, go to http://bluejackets.com to secure your seats now!
---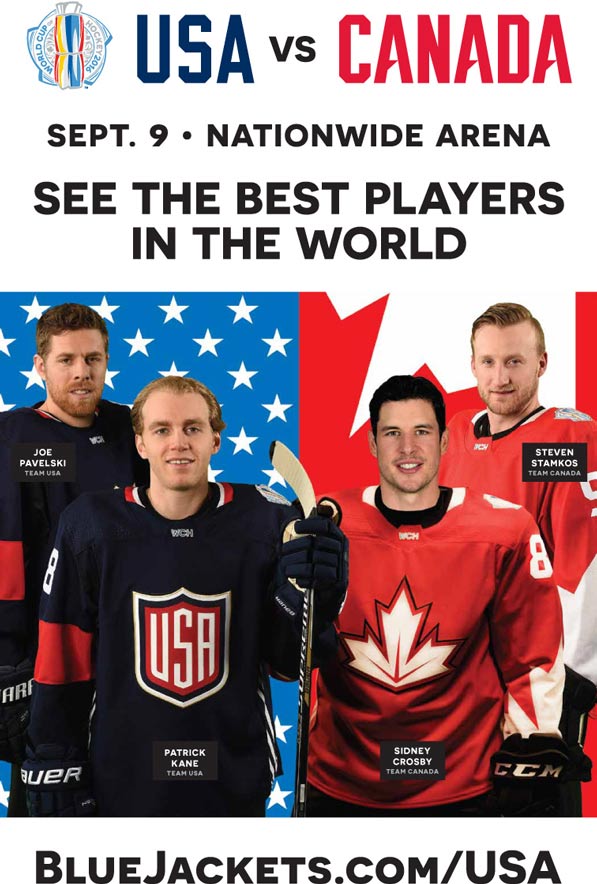 USA vs. Canada - September 9 - Nationwide Arena
See some of the world's top hockey players at Nationwide Arena September 9th when Team USA takes on Team Canada.

Check out Jonathan Toews and Sidney Crosby as they take on Patrick Kane, Jonathan Quick and the rest of Team USA, including Blue Jackets Brandon Dubinsky and Jack Johnson.

There are a limited number of tickets remaining for this historic rivalry between the US and Canada.

Visit http://BlueJackets.com/USA for more information.
---