Chiller Blog
Click here for pricing and complete schedules >
OhioHealth Chiller Dublin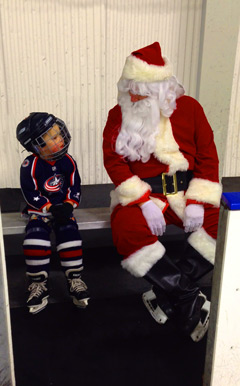 7001 Dublin Park Drive
Dublin, OH 43016
614-764-1000
Get directions >
OhioHealth Chiller Easton
3600 Chiller Lane
Columbus, OH 43219
614-475-7575
Get directions >
OhioHealth Chiller North
8144 Highfield Drive
Lewis Center, OH 43035
740-549-0009
Get directions >
---
Habitat MidOhio is looking for 108 Ice Warriors this year!

Register before the end of November and receive a free Hockey for Humanity beanie!
January 31st cutoff to fill the 108 spots
Each player will receive a custom jersey, hockey socks, food & beverages throughout the event, swag bag and, of course, bragging rights for making it through 24 HOURS OF HOCKEY!
$500 minimum fundraising commitment
Prizes for top fundraisers
7:00pm Friday, June 14 thru 7:30pm Saturday, June 15
OhioHealth Chiller North
For questions, please contact Kate Ames at
kames@habitatmidohio.org
or 614-364-7019.
Register now:
https://2019hockeyforhabitat.eventbrite.com
---
March With Us during the holiday season and give the perfect gift for the Blue Jackets fan in your life.
The Holiday Pack includes two tickets to two games of your choice, plus one limited edition Homage t-shirt.
Go to BlueJackets.com/HolidayPack to buy today!
---
Now offering the Flat Bottom V skate sharpening system from Blackstone at our Dublin and North locations!
Why FBV?
Superior Endurance
Greater Power
Enhanced Agility
Better Control
Blackstone has created a shape for your blade that will increase your performance! The FBV keeps the flat portion of your blade close to the ice to generate glide on all hollow sizes. With the variety of shapes available, there is a perfect shape for you and your skating technique!
Price:
$12 each or buy 10 for the price of 9 (a $12 savings!) while you wait or drop off. Only Blackstone trained staff will work on your skates.
"For pushing and gliding and being on top of the ice, there's a huge difference. Because it's not sinking into the ice, you don't have to work as hard. It's absolutely incredible."
~ Cory Stillman, Florida Panthers
---
Wednesday 11-21-18
11:30am-12:45pm - Dublin, Easton, North - Noon Skate Pricing
1:00-3:00pm – North; 1:30-3:30pm – Dublin, Easton - Public Skate Pricing
Thursday 11-22-18
CLOSED – Happy Thanksgiving!
Friday 11-23-18
11:45am-1:45pm - Dublin, Easton, North - Public Skate Pricing
8:00-10:30pm - Dublin, Easton, North - Friday Night Meltdown
Saturday 11-24-18
1:30-3:30pm - Dublin, Easton, North - Public Skate Pricing
Sunday 11-25-18
1:30-3:30pm - Dublin, Easton, North - Public Skate Pricing
Choose a location for complete skating schedules:

Public Skate Pricing
Day/Session
Adults
Students
Kids 4 & under
Noon Skate*
$4
$4
$4
Cheap Skate
$5
$5
$0
Friday Night Meltdown
(Skate Rental Included)
$10
$10
$10
Public Skate
$8
$7
$4
Skate Rental
$3
$3
included
*Noon Skates are discounted Public Skating sessions typically offered weekdays except on holidays and selected school breaks where normal Public Skating prices may apply. Please consult the online schedule for confirmation.
Family Price - $35– Includes admission and skate rental for 2 adults and 2 students. Additional skaters pay the normal admission price, but skate rental is included. Family price is available only for the Saturday and Sunday Great Skate sessions (1:30-5pm) and Saturday evening sessions.
Quarterly Admission Passes - Individual - $75 - Family of Four - $275 - Includes Skate Rental - Unlimited skating on Public Sessions for 3 months from the day of purchase - Purchase at any Chiller location
Groups of 15 or more
may be eligible for a special rate (must be prearranged, excludes Friday Night Meltdown). To book your group, contact Group Sales Manager Mazin Habash at 614-791-9999 x126 or
submit your information online >
---