Chiller Blog · Speed Skating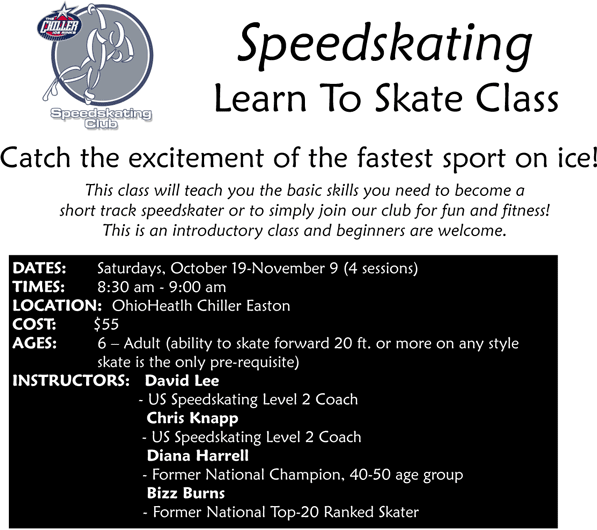 For more information, contact Jeremy Rogers - jrogers@thechiller.com or 614-791-9999 x123.

Click here to download printable registration form >
---
The Chiller Speedskating Club skated away with five state champions Saturday at the State Championships in Cleveland Heights!
More than a few personal bests were skated and our relay teams did an excellent job even though they didn't bring home the team trophy! Here's a breakdown of how they did:
Alexa Fisher—3rd place Tiny Tot Girls---Her very first meet!!!
Jacob Sayat—1st place Pony B Boys
Griffin Gianonne—2nd place Pony B Boys
Sarah Harrell—4th place Pony A Girl
Alec Hall—3rd place Midget B Boys
Danielle Amos—1st place Juvenile A Girls
Matthew Rodier—1st place Juvenile B Boys
Sue Tkach—1st place Master 30-39 Women
Derrick Coles—1st place Master 30-39 Men
Diana Harrell—2nd places Master 40+ Women
David Lee—2nd place Master 40+ Men
Lonnie Amos—3rd place master 40+ Men
Glen Gardner—4th place master 40+ Men
Chris Fisher—6th place master 40+ Men
Congratulations to all our great skaters!
In this pic: 1st row: Alexa Fisher, Danielle Amos, Jacob Sayat
2nd row: Lonnie Amos, David Lee, Diana Harrell, Sarah Harrell, Griffin Giononne, Derrick Coles
Not pictured: Glen Gardner, Alec Hall, Matthew Rodier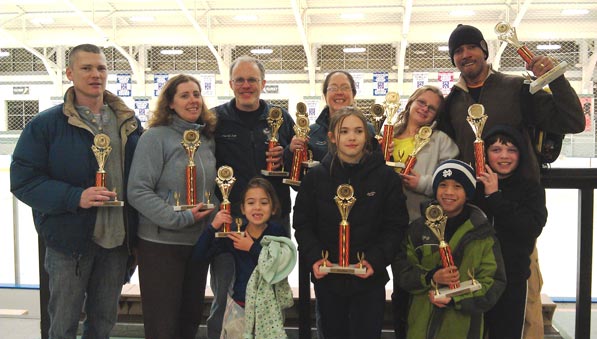 ---
Upcoming Events (See all)
Camp Chiller Spring Break
Camp Chiller will introduce your child to ice skating, as well as engage them in fun activities and projects. Camp includes at least 1 hour of skating a day!
Boy Scouts of America Belt Loop Program
Skating Belt Loops during quarterly Scouts-Only events. Scouts are free and reduced rates offered for friends and family.
Lace Up, Have Fun - Ponytail Pond Hockey
The plan is simple: sign up, show up, lace up, HAVE FUN! Teams will be divided for half-ice scrimmage based on age and relative skill for safe and fun games. 8 weeks.