Chiller Strength and Conditioning

Chiller Strength & Conditioning Program - Accelerate Your On-Ice Performance!
Increase Skating Speed, Power & Endurance
Prevent Injuries
Recover Faster
Maintain & Enhance Off-Season Training
Program Designed and Administered by Mack Burton - ACSM-CPT Certified Trainer and Hockey Coach. Training takes place at the new Chiller Fitness Center @ Chiller North!
45-minutes sessions include:
Dynamic Warm-up/Stretching: Optimize practice and game readiness, perform at your best, recover quickly!
Circuit Training: Fast-paced, exciting, FUN and variable training! Stations will focus on a wide variety of hockey-specific elements:

Agility
Explosiveness
Strength
Balance
Core Strengthening
Hand-eye Coordination

Speed & Conditioning: Perform at your best for longer; maintain intensity throughout each shift, game and overtime!
Program Features:
Flexible Scheduling: we'll work around your busy hockey season
Convenient Location: Chiller North – central Ohio's Hockey Headquarters
Individual, Small Group & Team Training
Highly Qualified Instructor
Pricing (per session)
# of Athletes - Price/Student
1 - $50
2 - $35
3 - $30
4 - $25
5 - $22.5
6 - $20
7 - $18.5
8 - $17
For questions or to get started contact Coach Mack - mburton@thechiller.com

---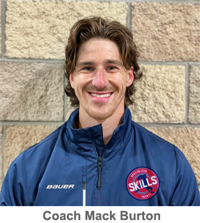 About Coach Mack Burton: Mack spent the last two years coaching Gilmour Academy's 16u and 18u AAA teams as well as goaltenders. He also worked with Conway Goaltending school in Cleveland where he ran private lessons, camps and clinics and provide goalie training within team practices. Prior to Gilmour, Mack played four years for Colby College in Waterville, Maine (NCAA DIII) where he was a goaltender. Mack played two years of New England Prep School hockey with Governor's Academy in Byfield, MA before coming to Colby. Mack grew up playing in Columbus with CCYHA and played three years with Hilliard Hockey Club prior to moving to the East Coast. Mack currently works as a personal trainer in Upper Arlington and leads private goalie lessons at the Chiller.