Camp Instructors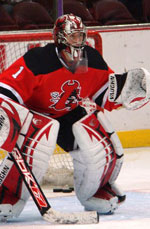 Dave Caruso
Dave Caruso, 30, just completed his 6th year as a pro. Dave spent the
2011-2012 season with the ECHL?s Trenton Titans and the AHL?s Charlotte Checkers.
Dave is a veteran of 52 AHL and 185 ECHL games along with attending 5 NHL training camps. Dave has played in the AHL for the Albany Devils, Charlotte Checkers, Chicago Wolves and Lowell Devils with 16 wins-28 losses and an 88.5% save percentage. In the ECHL, he has played for Trenton Devils, Gwinnett Gladiators and Trenton Titans with a regular season career 74 wins and a 90.6% save percentage.
Dave graduated in 2006 from The Ohio State University. Dave had a standout career playing 4 seasons (2002-2006), compiling a 52-32-9 record with program best goals against average of 2.07 and 2nd best save percentage of 91.9%. He was voted team MVP in both his junior and senior seasons. Caruso helped guide the Buckeyes to 3 NCAA tournament berths and a CCHA Mason Cup (Playoff champion) in which he was voted to the 2004 All-Tournament team as a sophomore. After his senior season, Dave participated in the 2006 NCAA Skills Competition. In the summer of 2006, Dave signed with the Atlanta Thrashers to a NHL contract.
Dave has spent the past 12 years instructing goalies and players through camps, clinics, private lesson and video sessions. He has taught at the Rick Heinz Goalie School, The Cooler Hockey Academy (Atlanta, Georgia), The Ohio State University Hockey School and the Columbus Blue Jackets Hockey School. Dave and Al Blevins (Gwinnett Gladiators Goalie Coach) began an Atlanta based elite-level goalie school called Square, Aggressive, Patient Elite Goalie Academy with students from Finland, California, Ohio, Florida, Tennessee, Washington D.C. and Georgia.
Dave has a real passion to help pass on his knowledge and love of hockey to his students. Dave brings and demands hard work and a positive attitude from all his students. Dave has worked with and taught by some of the best NHL, AHL, ECHL, junior and NCAA goalie coaches. He teaches the most up-to-date methods to all his students.
Lisa Chesson
Lisa Chesson is a 2010 Olympic silver medalist and was a member of the U.S. Women's National Team for the 2009 International Hockey Federation World Women's Championship, where she earned a gold medal. Chesson was also a member of the U.S. Women's Select Team in both the 2007 and 2008-09 seasons. She was a member of the U.S. Under-22 Select Team for 2007 and Under-22 series with Canada, along with being a four-time USA Hockey Women's National Festival Participant and two-time USA Hockey Player Development Camp attendee.

Chesson played four years of hockey at The Ohio State University, completing her Buckeye career after the 2007-08 season. She tallied 27-62-89, ranking ninth in OSU's record book and fourth among defensemen with her point total. She tied for 10th in the NCAA among blueliners her senior year, registering .74 points a game, while also being named All-WCHA Second Team. Chesson was selected as Third Team All-WCHA both her junior and sophomore seasons, her junior season setting career highs in goals (13), assists (24) and points (37). She was ranked as the sixth defenseman in the nation for points per game and led the Buckeyes with a plus 17 rating. Chesson skated in 36 games her sophomore season.

As an Illinois native, she competed for Plainfield Central High School team from 2002-2004, also competing with the Chicago Mission Under-19 Team and Team Illinois. Chesson was the only girl selected to skate in the 2004 boy's varsity all-star game. She also received the 2003 Best Defenseman Award at the Chicago Showcase and 2002 Sportsman Award. Chesson also lettered in track and field.
Ed Gingher
Ed Gingher will enter his 9th season as Program Coordinator and U18 Head Coach of the Ohio AAA Blue Jackets Tier 1 elite youth hockey program.

Gingher started the Ohio AAA Blue Jackets program in 2004 and has seen the program grow from one AAA team to seven (Squirt Major-Midget Major) and become proud members of the Tier 1 Elite Hockey League.

In the first 8 seasons, over 50 players have advanced to play Tier 1 or Tier 2 Junior A hockey including three NHL Draft Picks, ten NCAA Division 1 and eleven NCAA Division 3 players.

Prior to starting the Ohio AAA Blue Jackets, Ed Gingher served as General Manager and Alternate Governor of the Dayton Bombers Professional Hockey Team in the ECHL. When Gingher was named General Manager at the age of 25, he became one of the youngest General Managers in hockey history. Gingher also served the Bombers as a scout, Assistant Coach and Assistant General Manager before taking the position of General Manager in 2000.

Gingher played 3 years of Junior Hockey spanning the years 1992-1995 in the USHL, NAHL and EJHL. Gingher captained the 1994 EJHL Championship Hockey Team.

After his playing career ended in Waterloo, IA, he enrolled at the University of Dayton and earned Bachelor's Degrees in Management and Marketing in 1999. He, his wife (Betsy), their son (Ryan), and daughter (Allie) reside in Dublin, Ohio.
Nick Karmanyos
Originally from Massena, NY, Nick played four years of NCAA Division 1 college hockey at Niagara University where he served as Captain.
After graduating with a business degree in Management, he went on to play three seasons of professional hockey for the Fayetteville FireAntz.
In addition to playing professionally, Nick has been teaching the fundamentals of hockey for 10 plus years. His credentials include head instructor positions with the Turcotte Stickhandling School as well as Pro Ambitions Hockey School.
He is also the Assistant Coach/Director of Player Development at Olentangy Liberty High School in addition to being a skills coach for CCYHA.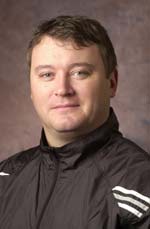 Dan Morris
Head Coach, Ohio '97
Hometown: Woodstock, Ontario
Overall Record: 141-47-17 6th season
Last season, Ohio University head coach Dan Morris guided the Bobcats to their third consecutive Central States Collegiate Hockey League (CSCHL) Regular Season crown. Along the way, Morris was honored for the third time as the CSCHL's Coach of the Year.
Dan began his coaching carreer as an assistant coach with the Ontario Hockey Association's Woodstock Navy Vets. While in Woodstck, Dan worked under head coach Dave Bogart, who is also an Ohio University graduate.
Dan returned to Athens in 1999 to become the head coach at Athens High. Dan remained the head coach for Athens for three seasons and in his final season with Athens High, Dan took on double duty as an assistant coach for Ohio University's all-time winningest coach, Craig McCarthy. After Coach McCarthy stepped down as Ohio's Head Coach to accept a teaching position in the Psychology department at Ohio University, Dan was named as the team's 12th coach.
Listed below are some of Coach Morris' accomplishments while at Ohio:
2006 CSCHL Regular Season Championship
2006 CSCHL Coach of the Year
2005 CSCHL Regular Season Championship
2005 CSCHL Tournament Championship
2004 ACHA (D-I) National Championship
2004 ACHA (D-I) Coach of the Year
2004 CSCHL Regular Season Championship
2004 CSCHL Tournament Championship
2004 CSCHL Coach of the Year
2002 CSCHL Coach of the Year
As a player, Coach Morris was a member of the 1995, 1996 and 1997 Ohio Univeristy ACHA National Championship teams. He was also a 2 time ACHA First Team All American selection in 1996 and 1997 as well as the 1996 ACHA National Tournament MVP.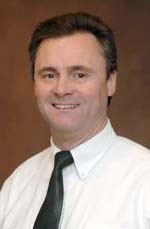 Mike Norton
Mike Norton joined the Culver Academies girl's hockey staff in the fall of 2004 after being the head coach of the Varsity "B" boys team from 1995 to 2004. Prior to that, Norton coached the Boys JV team for 2 seasons. He has an extensive playing and coaching background at the Division I college level, in addition to his experience as a junior player for St. Michael?s in Toronto from 1976-78.
After leaving St. Mike?s, Norton played one season of Division I hockey for former CCHA member St. Louis University in 1978-79 before transferring to Miami (Ohio) University, where he completed his career in 1982. Taking over Miami?s club program the following season as coach, he led the Redskins (now Red Hawks) to a 30-1 record and second-place finish at the Club Hockey Nationals in 1984.
Following a year at Division III Wisconsin-River Falls, Norton returned to Oxford as an assistant coach for Miami?s varsity team from 1985-91. A USA Hockey coaching education instructor during the off season and current assistant athletic director, Norton was the head coach for Team Indiana at the Chicago National High School Showcase Tournament from 1999-2001.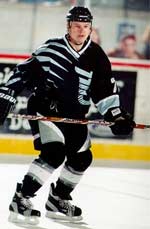 Rob Schriner
In his current position as Assistant General Manager of the Chiller Ice Rinks in Columbus, Ohio Rob is responsible for all hockey programs including classes, clinics, instructor and player development and the Blue Jackets hockey school.
Rob is originally from Colonsay, Saskatchewan Canada. He landed in Ohio by signing with the Ohio State Buckeyes Division 1 hockey team where he played from 1988-92. Rob served as captain with the Buckeyes and had his best season as a senior totaling 23 goals, 8 assists for 31 points.
Rob began his pro career with the ECHL Columbus Chill where he played from 92-96 and also served as an alternate captain. With the Chill, Rob totaled 91 goals, 84 assists for 175 points in four seasons. Rob also spent time with Hamilton of the AHL and Waco of the WPHL where he also served as coach and general manager. Since returning to Ohio Rob has been instrumental in the growth and development of youth, high school and adult hockey in Central Ohio. Rob has coached players of all ages and abilities and is widely recognized as one of the top coaches in the Midwest and beyond. His vast experience, flawless skating technique, detailed teaching methods and ability to push and motivate players make him an invaluable asset to the Central Ohio hockey community.
Matthew Berner
Matthew Berner was born in Fredrickton, New Brunswick and resided in Ottawa, Ontario before beginning his hockey career in Buffalo, New York. He played Travel Hockey for the Hamburg Hawks organization and won a New York State Championship along with a fourth place finish in the Nationals.
Matt attended the US National Team Development Camp at Ferdonia State College and played Division III College Hockey in the SUNYAC League for the Potsdam State Bears. He also played at the club level for the Wheaton Crusaders.
More recently Matt helped coach the Dublin Coffman Varsity Hockey Team to the FInal Four as an assistant. In addition to the Blue Jackets Hockey School, Matt has instructed hockey schools for the Nepean Raiders.
Pat Murphy
Pat is currently the Varsity Hockey Coach of the Dublin Jerome Celtics, a position he has held since 2004. He is also a faculty member at Dublin Jerome High School teaching psychology, philosophy, and US Government.
Pat has been a head instructor with the Blue Jackets Hockey School since 2001 and has been an integral part in our curriculum development as well as mentoring the younger camp counselors.
Pat played professionally in Europe with the Hasle Loren Ice Hockey Club, Norwegian Elite Series from 1990-91. Before going pro he played varsity hockey at Hamilton College from 1986-90.