Skate Into Scouting - Quarterly Scout Skate
May 13, 2017 - 5:00 PM - OhioHealth Ice Haus
Quarterly Scouts Skating Calendar
Saturday, September 17, 2016 OhioHealth Chiller Dublin
Tuesday, December 27, 2016 OhioHealth Chiller Easton
Saturday, April 1, 2017 OhioHealth Chiller North
Saturday, May 13, 2017 OhioHealth Ice Haus
*Time is from 5:00-8:00pm

Cost: Free for Scouts and $7 per person (includes skate rental) friends & family. This is $3-4 off our normal pricing. No minimums are required.

The OhioHealth Chiller Ice Rinks will offer private skating events throughout the year at OhioHealth Chiller Dublin, Easton, North in Lewis Center, and the downtown Ice Haus, and exclusive discount pricing is offered to Boy Scouts for group skating events.

For more information or to schedule a group event, contact group sales at groups@thechiller.com or 614-791-9999 x126.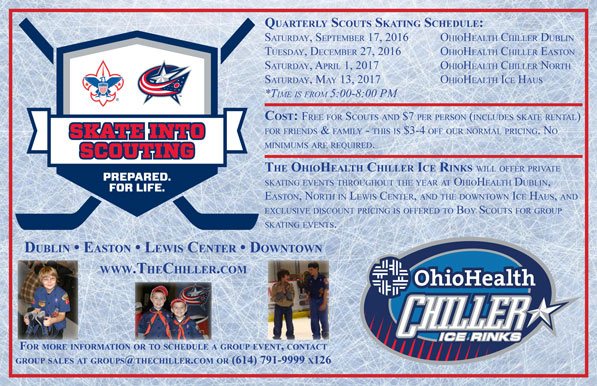 <- Back