Ohio Sled Hockey Invitational - January 18-19, 2020 - OhioHealth Ice Haus

Ohio Sled Hockey hosts its annual Invitational tournament this weekend at the OhioHealth Ice Haus, practice home of the Columbus Blue Jackets. Participants are youth boys and girls who have a physical disability limiting their ability to play hockey in a standing position. In addition to the host Columbus Blades, teams include St. Louis, Nashville, Carolina, Pittsburgh, Cincinnati, and Northwest Ohio.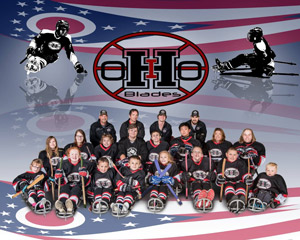 Hockey has been growing as a sport since it was introduced in the 1880s in Canada and spread to the United States during the 1890s. The fast pace, high intensity sport attracted a widespread audience. However, it wasn't until the 1960s that sled hockey was introduced in Sweden. Instead of skates, players sit in a metal framed sled with two blades and a bucket seat. Players are equipped with two shortened hockey sticks to not only pass and shoot the puck during play, but also to help propel themselves down the ice.
Sled hockey organizations reside all over the United States. Ohio Sled Hockey is among the countless other programs. Their mission is to "provide the opportunity for individuals with physical limitations to learn about and participate in the sport of hockey." Both youth and adult programs are offered.
"We want to provide all individuals with disabilities opportunities [in hockey]," said Kelly Fenster, operations director for Ohio Sled Hockey.
Fenster has been the operations director for Ohio Sled Hockey since 2004. Her son plays a major role in her involvement. "My son loved the program and played for fifteen years," said Fenster.
Funding is an important aspect for the organization's success to help make it affordable for individuals wanting to participate. Ohio Sled Hockey is partners with the Columbus Blue Jackets Organization. "We receive funding through grants," said Fenster. "The players skate during the intermission to help create awareness for the sport." Ohio Sled Hockey also receives equipment through donations and sponsorships.
With the inclusion of learning the sport of ice hockey for individuals who have disabilities, events and tournaments are held to showcase the players skills. "Currently we have twenty-nine youth participating in the tournament and we have a full-size adult team," said Fenster.
For those interested in sled hockey shouldn't be intimidated to see what the sport has to offer. "Come out and watch it," said Fenster. "It really pulls on your heartstrings when you see kids overcome challenges and setbacks."
For more details on the tournament or Ohio Sled Hockey visit ohiosledhockey.org. A schedule of this weekend's games can be found on the Ice Haus Daily Rink Schedule on thechiller.com.
-Nicole Bachtel